New Landmark Bridge for Downtown Fort Worth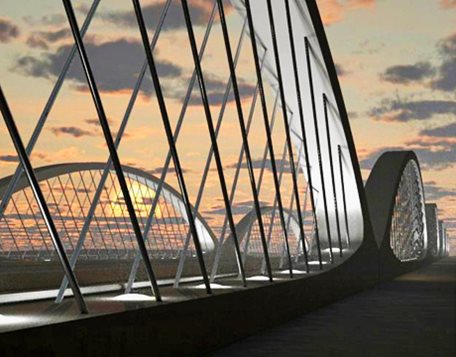 Hello everyone, I hope y'all are doing well.  Not much has changed with me…still looking for work and I am also making a solid effort to brush up on some structural engineering programs like Revit, SAP, and AutoCAD.  Today I want to share my opinion on a new bridge that is going up in my hometown of Fort Worth, TX.  Part of it is for selfish reasons –  it is my hometown and I am glad we are getting a fancy new bridge for an up and coming area of town.  However, it also uses a unique combination of bridge design concepts I would like to discuss.
The design of the bridge is a combination of two common bridge design concepts – a network-arch bridge and a precast concrete bridge.  The city wanted a network-arch bridge to add aesthetic appeal to the design.  However, they wanted minimal disruption in regards to traffic – hence application of precast concrete principals.  The article gives the following specifications for the bridge: "The bridge is a series of 12 post-tensioned concrete arches, six on each side, which are the main structural elements. Each arch is 163 feet long and over 23 feet tall. While the new bridge will remain with four traffic lanes, it will be much wider to incorporate lanes outside the arches for pedestrians and cyclists."  The goal was to reduce the on site construction site down to 150 days.
To do this, the arches were cast on their side for efficiency.  Post tensioning was applied in three stages.  The arch was cast sideways and post tensioning was applied, the the arch tilted up right and another round of post tensioning was done.  Then the arch was moved into storage and a final round of post tensioning was done.  The casting process took between 3 to 6 weeks; while this was being done, the foundation and columns were constructed on site.  Transport and installation of the arches started in July and will finish by October.
Personally speaking, I like the bridge design and location.  The bridge will connect the up and coming West 7th District with downtown Fort Worth which should guarantee good visibility.  Along with that, the creative design process and improved construction time is also impressive.  This should make the bridge a good icon that can be advertised for the Fort Worth area.  The only drawback I could see is that the new combination of design concepts may not work as well as expected.  I trust that it can initially handle the dead loads and traffic live loads adequately so safety isn't a major concern for me.  However, the lifetime demands like fatigue, deflection over time, etc. are more difficult to predict and can't be tested as accurately – especially with uncommon designs like this.
What are your thoughts on the bridge?  Do you think the design will be effective?  And on a personal note, if you have been to downtown Fort Worth or West 7th Street district, do you think the bridge will be a good addition to the area?  Thanks for your time and have a good weekend.
Source:
Nancy S. Giges, "World's First Precast Network-Arch Bridge", www.asme.org, http://tinyurl.com/n7wblwa